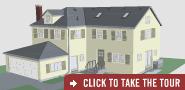 Serving Western Wisconsin, Minneapolis St. Paul Metro Areas & Surrounding Cities

So what should a home buyer be looking for in a home inspector? Here's what A+ Home Inspection offers.



​​​​​Licensing: State of Wisconsin Home Inspector License #119.



Training:

American Home Inspectors Training Institute 12 week course.



Experience:

Doing business since 1998!



Continuing Education:

Over 300 hours of classes, courses and seminars to stay on top of building codes, technlogy, etc.



Association Membership:

Registered with Housing Inspection Foundation since 1998. International Association of Certified Home Inspectors since 2001, Member of the Realtors Association of North Western Wisconsin since 2008, Member of Wisconsin Association of Home Inspectors, Chippewa Valley Chapter.



The Report:

This is why you hire a home inspector, to provide written detailed information about the house. We use professional software from Home Gauge to write up your report. It includes details on every aspect of your home or building with full color pictures. The report can be emailed to you via PDF or mailed. Click here to veiw a sample report.

The purpose of a home inspection is to inform the individual buyer of the current condition of the home. The purchase contract the buyer and seller signed is contingent on the home inspection. A buyer will generally have the option based upon the inspection to; opt out of the purchase, ask for repairs or credit towards repairs or a purchase price reduction.

What is a Home Inspection ? Click the video to find out.